Who is Starling Hammond? Page 2
Starling Hammond is one of our family's most puzzling characters. We know almost nothing about him—except that he was killed at a young age by a train in Utica, New York.
From the newspaper reports and family lore, he was working as a printer. I don't know where or why he learned printing. I don't know why he went to New York. I don't know much about his death, except for the newspaper accounts on the preceding page. I don't really know if his last noble words really absolved everyone else of responsibility, or if that was something that was falsely reported because of fear of liability.
But I do know where he's buried. Today, Starling Melmouth Hammond is at the Bethany Baptist Church cemetery in McDonough, Georgia, just a few miles from Atlanta.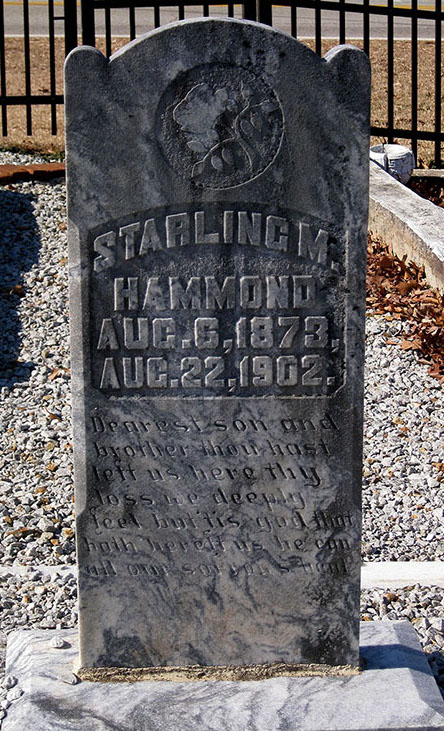 I visited Bethany Baptist Church cemetery with a somewhat distant relative, Annie Ruth Hammond Patterson. Annie Ruth is not on the chart in the sidebar because I have not quite figured out where she goes. But I think her father, William Rice Hammond is the brother of Starling Hammond. And that makes him the brother of my grandmother, Vivian Lucille Hammond Stephens. C' est la vie (This is French. Who knows what it means? Who cares?)
Annie Ruth and I had a great day looking at graves and taking pictures and discussing how these people fit into the Stephens/Hammond/Mayo family.
Here's a nice picture of Annie Ruth and her son, Don Patterson at their family home in McDonough, Georgia.
Go back to page 1 of Who is Starling Hammond?
---
Contact me at:

Last update: April 7, 2014