Who is Starling Hammond? Page 1
One of the more mysterious members of the Stephens family is my grand uncle, Starling M. Hammond. He's a mystery because he died young in a faraway city, and that raises two big questions:
Why was Starling Hammond working in Utica, New York?
How did he die in a horrible train accident?
My first recollection of him was when my aunt Elsie Stephens mentioned him. At the time, I was at first struck by the name "Starling." But she also said he was killed by a train in New York. No more than that—but that was enough to make we want to know more about him.
The census is not much help
Starling Melmouth Hammond does not show up on very many census forms—just one, to be exact. He was born on August 6, 1873, maybe in Downsville, LA. He died in Utica, New York on August 22, 1902, at the age of 29. He appears on the 1880 census as a six-year-old boy, misnamed on the form as Samuel, probably a corruption of his initials S and M.
There is no available census for 1890, and so far, I have not found him on the 1900 census. He died in 1902. So the vital records are sparse—just a misspelled name on the 1880 census.
My cousin, Celia, came across a copy of the book The Last of the Mohicans. At the front of the book is this inscription from Starling to his "Brothers and Sisters." The year is 1894, eight years before he died.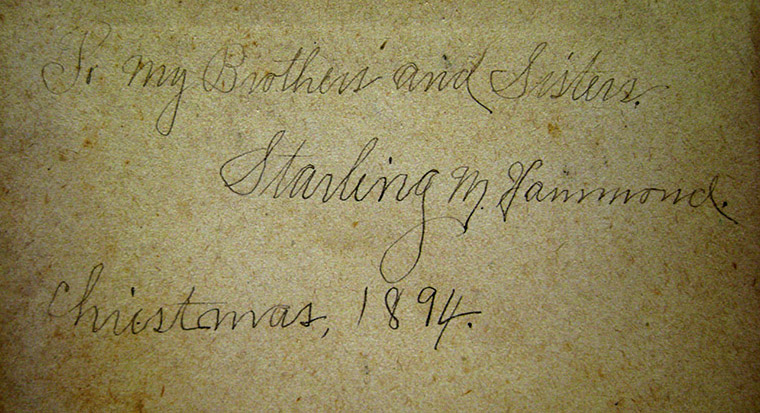 There's no one still living who knew Starling, but we can learn just a bit from two newspaper articles from his home town, McDonough, Georgia. These transcriptions are exactly as printed:
The Henry County Weekly, August 29, 1902
Starling Hammond Dead
The death of Starling HAMMOND, who spent his boyhood days in McDonough,
occurred under distressing circumstances at Utica, N. Y., last Friday, and the
sad news was received with much regret here. The remains reached McDonough last
Tuesday afternoon and were laid to rest in the family burial grounds near
Bethany.
A special dispatch from Utica to the Atlanta Journal gives the following
particulars of the death:
"Starling M. HAMMOND, a printer, aged 29, son of Mrs. Mary HAMMOND of 4
Love Street, Atlanta, was wounded on the New York Central Railroad tracks here
this morning with one leg cut off and the other nearly severed.
He was taken to the city hospital where he died a few hours later. While
the city physician was working over HAMMOND he was conscious and said: " I was
to blame and no one else." Further than that HAMMOND refused to explain the
accident.
The coroner is investigating. He believes the man to have fallen off a
flyer while en route to Albany to work. The local printers have interested
themselves, as he had a paid up union card."

The Henry County Weekly, August 29, 1902
BETHANY
The remains of Mr. Starling HAMMOND a former Henry County boy, who was
killed by the railroad in New York last week, was brought to this place to be
interred, and was laid to rest Tuesday afternoon after appropriate funeral
services conducted by Rev. T. J. BLEDSOE. His parents formerly resided in this
vicinity, during his boyhood days, and his sad and untimely end is deeply
deplored by his old friends and associates.
We know where he is today
We don't know much, but we know where he is buried. See the following page for a picture of his grave.
Go to page 2 of Who is Starling Hammond?
---
Contact me at:

Last update: August 12, 2010April 7, 2014