The secret wife of Dionysius Virgil Stephens: part 01 (Mary Kitchens)
When I researched the family of D. V. Stephens, I learned that he was married twice, first to Mary Kitchens and next to Rebecca Catherine Reaves (Reeves). He fathered three children with Mary and six more with Rebecca. I also learned, to my great surprise, that Dionysius had a third wife who is somewhat of a secret. If you can't wait to read about her, go ahead and jump to part 3.
Mary Kitchens
I know almost nothing about his first wife, Mary Kitchens. She was born in 1836, according to the date on the grave stone below. She died on March 14, 1862, at the age of 26. She is buried in the Fairburn (Georgia) City Cemetery on a Stephens family plot. Also on the plot are John Washington Stephens, grandfather of Dionysius Stephens, and his wife Miram (Miriam).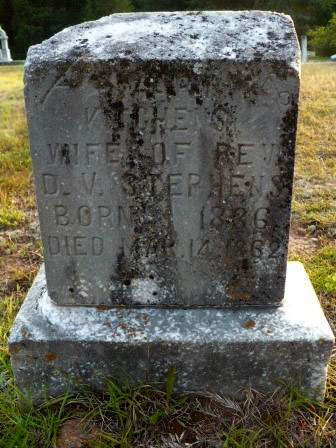 Family stories say Mary died in childbirth, but I have found no evidence to support that belief. There is no separate infant grave at the cemetery site. I'm told that a woman and child who died in childbirth were sometimes buried together. Again, I have no evidence that this is the case.
The children of D. V. Stephens and Mary Kitchens Stephens are:
Emaline (January 20, 1856–November 18, 1944*)
William Tillman (January 19, 1857–December 15, 1943)
Alice J. (circa April 7, 1860–July 22, 1923)
*Georgia death certificate 23870 lists Emaline's date of death as November 18, 1944. Two separate researchers in the family list Emaline's date of death as November 12, 1945. One of these researchers may have obtained this date from the other. I am using the date on the death certificate until I have more information.
---
1850 Census showing Mary Kitchens at 14 living with her family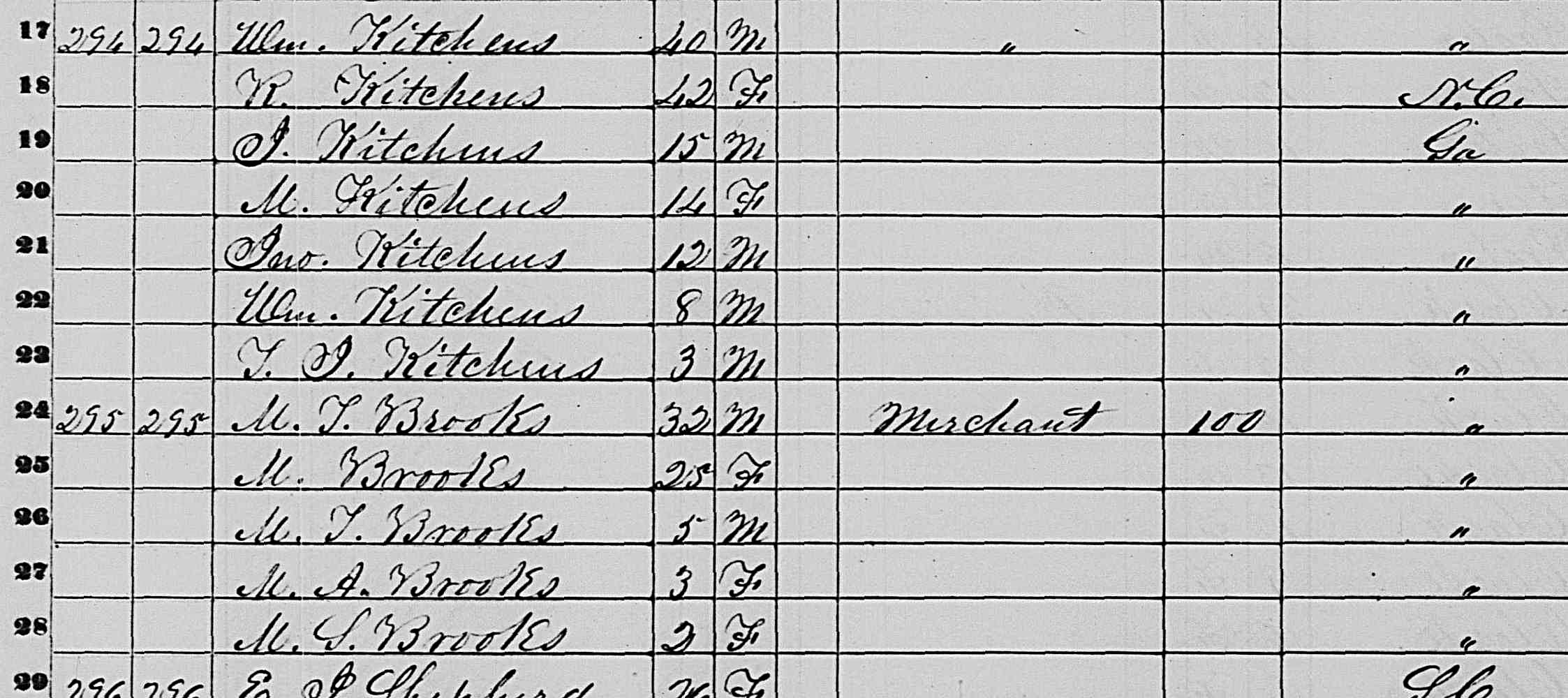 ---
---
Contact me at:

Last update: April 7, 2014