Hollywood Cemetery in 1929 (William Florence grave)
William Thomas Florence (1853-1929) was buried on Tier 1 of the East Tiers of Hollywood Cemetery. This 1929 photo shows several relatives at the grave. The two sets of stairs at the left are are visible in the lower photograph.
(1929 photos courtesy of Walter Church)

Walter Church, a descendent of William Florence, at the grave site in 2012. Walter searched the area and probed as deep as 12" into the soil, but could not find a grave marker. This picture shows the same general area as the photo above. You can see the stairs to levels 2 and 3, as well as the concrete walls that are now almost covered by soil.

Looking south along the East tiers, toward Hollywood Road. These East tiers are not the same as the Main tiers which front on Hollywood Road.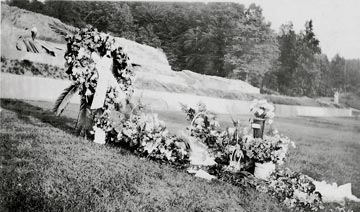 ---
Contact me at:

Last update:April 7, 2014