Hollywood Cemetery TRIANGLE AREA
(Download a directory in the sidebar)
This area is shaped like a triangle. Its sides are Gun Club Road and two paved roads into the Hollywood Cemetery/Monte Vista Cemetery areas. It is best not to park a vehicle along any of these three narrow roads.
Sections A, B, and C are along Gun Club Road, as shown in the photo. In each area, the graves run parallel to the paved west entrance road (on the left, below). D, E, and F are aligned with A, B, and C.
Don't look for the convenient yellow dots; they're not really there.
A: Four rows of graves from the entrance road to the large tree.
B: Six rows from the large tree to the next large tree.
C: Scattered and incomplete rows, up to the northeast corner's large pine tree.
D: Aligned with A, but a bit irregular at the south end where the grave plots are at an angle. Some of the family plots are split by the boundary line.
E: Aligned with B (kinda'). Some of the family plots are split by the boundary lines.
F: A small triangle below (south of) the C area.
X: This little rectangle lies across the east entrance road in the Monte Vista area. I'm convinced it should be part of Hollywood Cemetery. The walls and gravestones are old and not in keeping with the Monte Vista markers.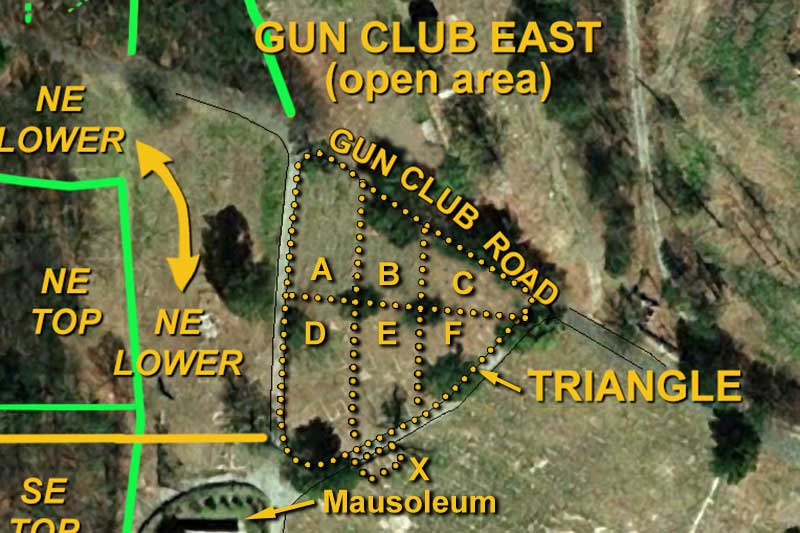 Be careful. The terrain is treacherous.
Warning: Most sections of Hollywood Cemetery are hazardous. Enter at your own risk.
---
---
Return to Hollywood Cemetery Home
---
Contact me at:

Last update: April 7, 2012