Hollywood Cemetery EAST GUN CLUB ROAD AREA
(Download a directory in the sidebar)
The EAST Gun Club Road Area (See map below) is a clear, open area across Gun Club Road from Monte Vista Cemetery (with the white statues). The gravel loop road is accessible by vehicle or by foot.
If you go too far up the hill, you'll miss the loop road and end up in the landfill.
Area A is a long strip of graves along the right side of the entrance road.
Area B is the area inside the curve in the loop road, bordered by the loop road on the north and continuing down to the first large cedar tree.
Areas C and D go from the cedar tree to the big poplar tree.
Areas E and F continue from the poplar tree toward Gun Club Road to another poplar tree centered between the two parts of the loop road.
Areas G and H continue toward the road, with a large tree dividing them.
Areas J and K are on the west side of the loop road, and have no clear division between them.
Areas L and M continue to the north, ending at the wooded area. A large poplar tree near the loop is an approximate dividing point.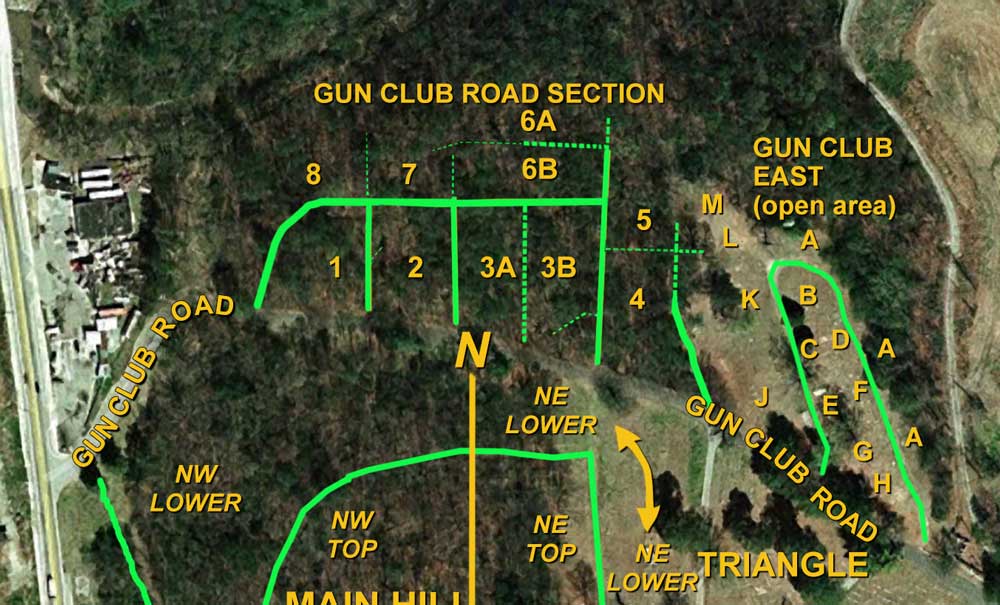 Be careful. The terrain is treacherous.
Warning: Most sections of Hollywood Cemetery are hazardous. Enter at your own risk.
---
---
Return to Hollywood Cemetery Home
---
Contact me at:

Last update: April 7, 2012