The secret wife of Dionysius Virgil Stephens: part 03 (Elizabeth Bauschell)
As detailed in the first two parts of this story, everyone in the family knew that D. V. Stephens had two wives: Mary Kitchens and Rebecca Reaves. I have to tell you that I was completely happy with this situation. I had found marriage licenses, census records, and other documents that confirmed the two marriages. I had viewed the gravestones of both women. I thought I knew it all. Yeah, right!
A big shock
While doing Internet research, I followed my same old routine. I entered the name of my great-grandfather, Dionysius Virgil Stephens. That usually gets me nowhere. Then I enter D. V. Stephens, and get lots of hits for a Nebraska congressman and a Civil War soldier named J. V. D. Stephens. Not what I'm looking for.
But one evening, I scared up a local newspaper article that mentioned a Superior Court proceeding involving D. V. Stephens, and this was not the congressman. Here's a blurb from the Atlanta Constitution for January 30, 1912.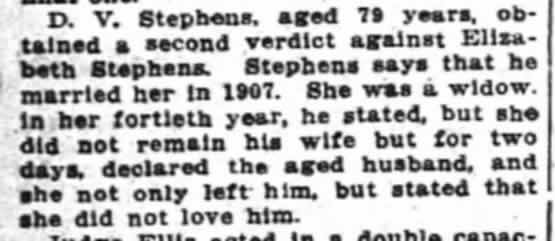 Heartbreak
I'll admit that this tale of love gone wrong is pitiful, but thank goodness, it was not about my great-grandfather; after all, he had only two wives. But I did the math, and subtracted age 79 (in the article) from 1912 and ended up with 1833—the birth date of Dionysius Virgil Stephens. What an odd coincidence.
The marriage in the article took place in 1907, so I then verified the date that second wife Rebecca had died: February, 1907. Yikes! What is this all about? Who is this woman Elizabeth mentioned in the article?
I wanted to learn more about these court proceedings, but so far, I haven't. You can read all about it in the sidebar.
But I did learn more about the secret wife of D. V. Stephens . . . much more!
---
---
Contact me at:

Last update: April 7, 2014