My father at the Okay Cafe (part 2)
I already knew my father and mother spent some time in Concord, North Carolina, and were there in 1939 when my sister was born. Based on the street scene photo on the previous page, I was now fairly confident that the mystery photos were made in that city.
Look at the names
The name R. A. Dry is unusual, so I thought I could quickly find it. It was right there on a 1930 U. S. Census for North Carolina: Ralph A. Dry, Manager, Shoe Repair. This is the business we can see in the background of several of the pictures. And it nails down the city as Concord, North Carolina.

I then found a Concord city directory for that period. My father was listed as a waiter at the Okay Restaurant. Hmmm.
I called my cousin Otis about this. He's the family historian and has a great memory for details and names and dates and family lore. The only problem is that he is blind and not much help with photographs.
But he recalled that my father had been invited by the owner of the Okay Cafe to come to Concord if he needed a job. During that period after the depression, almost everyone needed a job, so my father and mother left for North Carolina.
I later found this card in a box of old letters. Hard to believe, but true! The note reads:
Dec 20, 1936
Virgil If your business is a little slow and you would like to come up and work for me write or wire me when you can come
L C Beal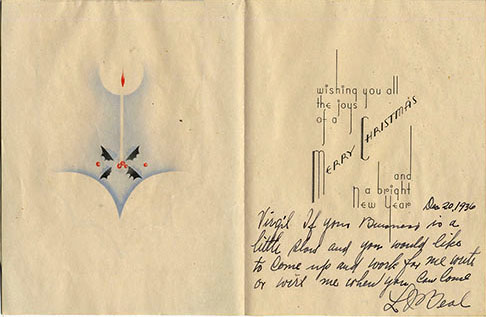 Mr. Beal was the owner of the Okay Cafe.
---
Last update: April 7, 2014